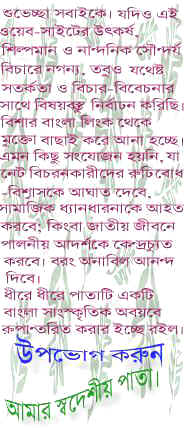 Poll:
Participate in my poll and let me know why is that. The poll's subjet will be change every week. Thanks for your participation.
Friends Album: I value my friends. see picture of them. And meet of them here. Here's ur Eid greeting
Hi dudes and dudettes. Congratulation!!! You've just landed to the right place in the Jashim's little planet in the cyberspace. This Page optimised by MS Internet Explorer 4 & 5 for minimal operation: 800 by 600 pixrels. To view my site properly, please set your screen area 800 by 600 pixels. In Netscape You won't see some styles & effects.
I am working on it. Here's the entire bangla newspapers links, most essential canadian & bangladeshi links, chat, joke, friends pages and bangla TV in your disposal with a single click. It will be edited every nights and you will see a lot of new features about Bangladesh, my culture and heritage. Some Links are under perpetual constructions and will be edited very soon. I have gathered a lot of information and more will be added as soon as possible. Please stop by again and see what has been added.
Please let me know your imaginative advice to build my project for our home BANGLADESH and sign the guestbook before you leave to let me know you've visited. Enjoy.
Announcement: Jashim's Indigenous Page gonna get a Domain name soon. The domain gonna be www.kotha.com
Karim Trading company is a canada's one of the best T-shirt companies. If you plan to buy T-shirts for holiday or haven't found any gift ideas. then you can visit our store. Our showroom situated at 426 Spadina Avenue. Toronto, canada. Recently we have imported thousands of T-shirts and golf shirts from Bangladesh. You may choose your T-shirts from there. The Price is so cheap. We also sell Golfshirt, sweatshirts,Blankets. Besides, We do Embroidery, custom jobs and Screen Print. Phone:(416) 596-9725